AINEOP.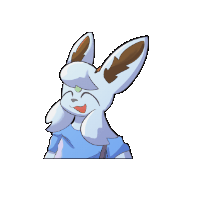 AINEOP
SUNDAY MAR 20 2023
Minor edits to the character profile template I have, due to problems with some traits ending up on the wrong lines and creating silly mishaps such as "Gender: Espeon" Yes, this is the first changelog-worthy update in nearly a month.
FRIDAY FEB 24 2023
Minor edits to Crab's character page.
SUNDAY FEB 19 2023
Minor edits to Rain's character page and the art page.
TUESDAY FEB 14 2023
Added alt text to images on the main, about, journal, and character index pages.
Added short descriptions on hover (sorry mobile users) on the character index page.
WEDNESDAY FEB 8 2023
Updated Rain's pronouns. Again.
Overhauled character index page
SUNDAY FEB 5 2023
Sorted the uncategorized section of the art page by month
SUNDAY JAN 29 2023
Minor tweaks to the journal page
SATURDAY JAN 28 2023
Added navbar in about page
Changed journal backgrounds
FRIDAY JAN 27 2023
Overhauled about page
Replaced the music I Prefer Pizza with 90% Grease with It's Showtime!, except on the Journal page, where it's It's Raining Somewhere Else
FRIDAY JAN 21 2023
FRIDAY JAN 20 2023
Updated Brooklyn's character page
TUESDAY JAN 17 2023
Updated the pronouns section in the about page, because I'm evil I'm evil yeah I'm evil I'm so evil I'm evil I'm evil
SUNDAY JAN 1 2023
Added artwork I posted today on the art page. First update of the year and it's this.
SATURDAY DEC 31 2022
Finished the art page! Now I just.... have to update the navigation bar.... on every single page.................
FRIDAY DEC 30 2022
Removed Bootstrap from a lot of pages, but not all of them.
More art page sections!!!
THURSDAY DEC 29 2022
Finished the "All","Other", "Reba", "Axel", and "Berry" sections of the art page.
Added a guestbook
FRIDAY DEC 16 2022
Made some half-assed character pages. Because I realized I can just half-ass things and make them good later.
Fixed an entry here because December 7th was not a Thursday fucking idiot
Made a to-do list on the main page. Please hold me accountable.
SUNDAY DEC 11 2022
Started making the art page.
WEDNESDAY DEC 7 2022
Fixed the links in the link directory because they were opening in the iFrame. I am not a professional.
Changed the favicon
TUESDAY DEC 6 2022
Finished the link directory.
SUNDAY DEC 4 2022
Changed the background!!!
Made a link directory, but I didn't finish it so it's not in misc yet
THURSDAY DEC 1 2022
Accidentally deleted this page and made a couple months of history go weeeee
Changed the home page
WEDNESDAY NOV 30 2022
WEDNESDAY SEP 21 2022
Changed pagedolls on the main page to Reba and Axel
Made this page
WEDNESDAY AUG 16 2022
FRIDAY AUG 5 2022